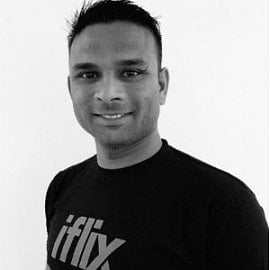 An avid Software and Computer Engineer with over 16 years of experience, Hizam joined iflix as the Head of Engineering to build and lead the development centre in Czech Republic. He has extensive knowledge and expertise in embedded systems, application development and development of telecommunication protocols. He has worked in numerous industries such as surveillance systems, semiconductor, e-commerce, telecommunications and broadcasting. Prior to joining iflix in 2014, Hizam was the CTO of idottv, where he lead a rapid development team to the completion of design and development of mobile applications and solutions for telecommunication companies across South East Asia.
Hizam spent 10 years living in the Bay Area, California, USA, with 7 years of working experience in the field of Software and Computer Engineering followed by 6 years of work experience in Asia (Singapore, Malaysia and neighbouring countries) in the field of Software Engineering Management and Leadership. Lived in Cape Town, South Africa for few months while helping to setup the engineering team there and now based in Prague for almost 2 years.
He holds a Bachelor and Master degree in Computer Engineering from California, USA.